A new season means new opportunities to decorate. Add a floral centerpiece to your dining room table and incorporate a few fall flowers for decoration in arrangements around the living room and it will feel like you have redecorated your home! Here are some easy ways to incorporate beautiful fall flowers and the shades of the season into your home decorations.
1) Use rich colors
Our first suggestion is to stick to the rich, vibrant colors of fall. Burnt orange, deep red, yellow and browns are all warm colors that resemble the changing colors of the leaves. Warm colors bring positive energy to a space and make an area feel inviting.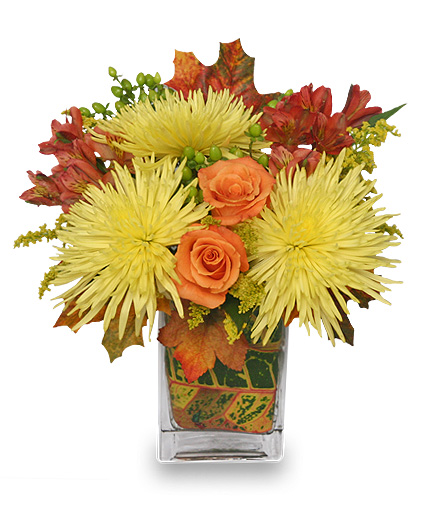 2) Potted plants
Potted plants are inexpensive and will last a long time if given the proper care. Choose some fun containers that work well with your space. Remember to keep in mind the size of your room. Some large plants will look out of place in a really small area. If you have a extra vertical space, try some wall mounted baskets. Mix and match colors that visually compliment each other like yellow and green or red and brown.


3) Fall wreath
Welcome your guests to your home with an eye-catching fresh floral wreath. Think about what extra embellishments you could include like pine cones, leaves and berries. Then take your ideas to your local florist! They will be happy to create a beautiful fall wreath for your front door. Your florist will know which flowers are in season and which flowers will last the longest.
4) Centerpieces
Let the beauty of fall shine naturally in your home with an autumn-inspired floral centerpiece. Succulents, orange gerbera, dahlia, camellia and chrysanthemum are all popular flowers in the fall. Ask your local florist to make a fall-themed arrangement with their favorite blooms. Their creative design skills won't disappoint! You can even compliment your arrangement with a festive table runner.
Here are some other fun fall flowers decorations that work well with flowers.. Use these items around your home or ask your florist if they can incorporate them into your centerpieces or wreaths.
  – Gourds
  – Pumpkins
  – Pine cones
  – Berries
  – Leaves
  – Garland
  – Seasonal fruit
  – Scented candles
  – Hay bales